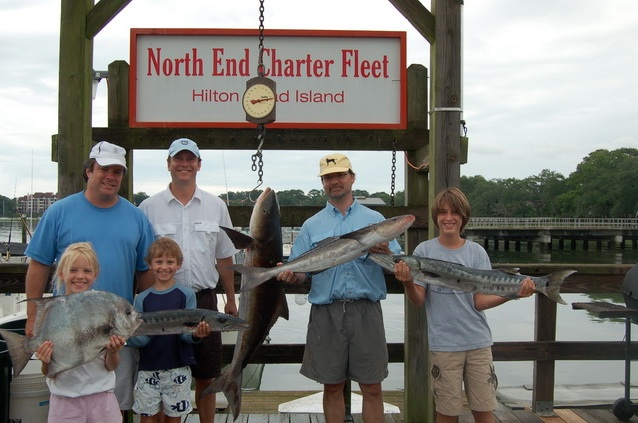 Are children allowed on your fishing charters? 
Absolutely! Fishing is a great family adventure for all ages, so we welcome kids.  There are no age restrictions and anyone in good physical health can join in the fun.  Captain Gumbo is great with kids and will help them as much as the need to get their "big one."
How many people are allowed on a charter?
Our fishing charters are called 6 pack charters by the US Coast Guard because our license allows us to take up to 6 paying passengers. If you have a large group of more than 6, we can arrange multiple boats of the same size, style and quality.
What if the extra people in my party don't fish, do they still have to pay or can more than six people come if they are not fishing?
We are limited to the number of people allowed on the vessel by the State and they do not discriminate who is fishing and who is not.
What's included in the price of a charter?
Your fare includes bait, ice, tackle, rod/reel, fishing instruction and a great vaction memory.
Do I need a fishing license to fish on your boat?
No. All passengers are covered under our recreational charter boat license.
What do I need to bring for my trip?
1. Sun block, hat, sunglasses and light colored clothes are suggested for the summer months. Warmer clothes in the spring and fall months.
2. Any food and drinks you would like for duration of the trip.
3. White soled sneakers or deck shoes. NO black soled shoes please.
4. Sea sick prevention pills or patch. If you feel you are susceptible to motion sickness, we suggest you take Dramamine or any other brand the night before your trip, then just before you get on board. All local pharmacies carry them, as well as patches for more advanced cases.
What should I leave behind?
Illegal Drugs or Hard Liquor, Dark Soled or Hard Soled shoes (boat shoes, or sneakers are suggested) and Bananas. No bananas are allowed on the boat. The fish don't bite when there is a banana on board.
Can I bring alcoholic beverages aboard?
You are welcome to bring beer and consume in moderation.
Do you provide food and drinks?
Customer's are requested to bring their own food and drink.
Can I bring a cooler on board?
You are welcome to bring a cooler. The boat has a built-in cooler as well.
What can I do with my fish if I am visiting from out of town or just don't feel like cooking them?
Please ask Captain Gumbo, he can offer you some suggestions.
What happens if the weather is bad?
It is the captain's choice concerning the weather. Please show up for your trip even if you are sure that your trip will be canceled. Often the weather is much different offshore then it is at the dock. If the captain determines it necessary to cancel your trip we can discuss when to reschedule your charter.